by Neal Tieng
Scorching Hot From the Get-Go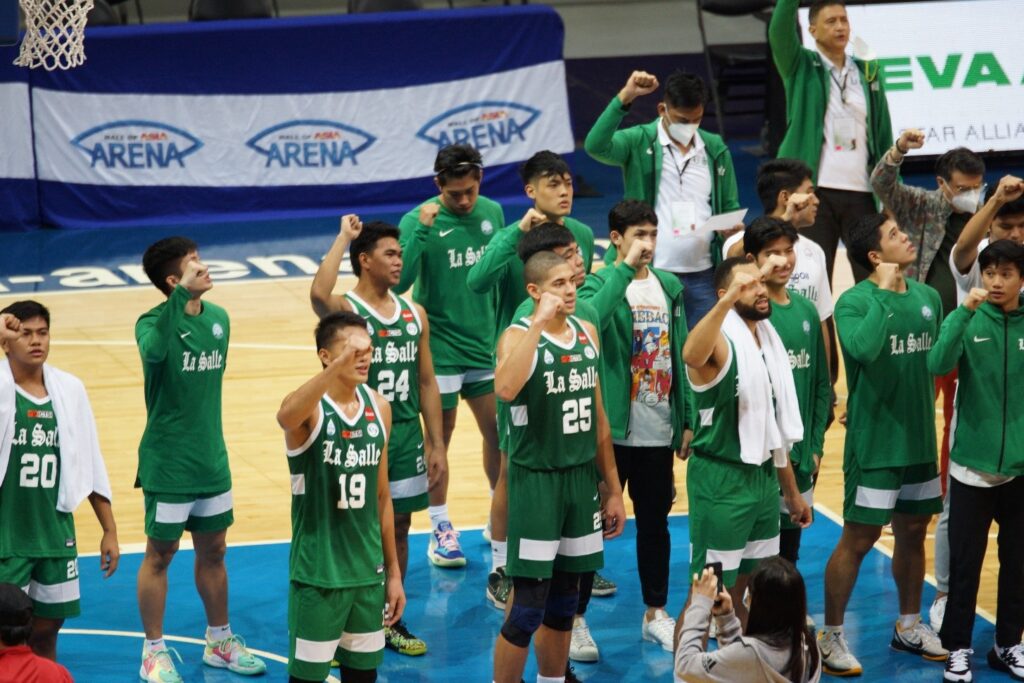 Stung by a loss to archrival Ateneo in the previous game, the Green Archers of De La Salle waxed hot from from the opening buzzer, repelled numerous rallies, and costed to the end to whip the beleaguered UST Tigers 75-66 last April 5, 2022 at the Mall of Asia Arena.
As the first game with a live audience, Green Archers welcomed their faithful supporters in the stands by rampaging out of the gates, and turned a 5-5 deadlock into a 21-7 advantage in the first six minutes. UST came ready with a defensive game plan to shut down La Salle' usual offensive options, but the Espana squad was blindsided by rookie Emmanuel Galman who started, and who poured in 11 first half points by slicing the man-to-man defense with midrange jumpers, draining triples and making putbacks.
Met with a swarming man-zone La Salle defense, the import-less Tigers of Santo Tomas scrambled and limped all through the first half as the team from Taft Avenue dominated by playing disciplined offense to backstop their air-tight perimeter defense to finish the half at 42-27.
The stellar Green Archers basketball was bannered by 10 offensive rebounds, 7 points of offensive rebounds and 22 perimeter markers. The choking La Salle defense, on the other front, only allowed UST 3 points from the perimeter in the entire first half, coming from Joshua Fontanilla at the first two-minute mark of the game.
By the 3rd canto, the UST offense shifted away from their failing long game and altered their offensive plan by attacking the paint. UST's Christian Manaytay, Fontanilla and Bryan Santos tried to will the Tigers back with their inside-out game and chopped the once formidable19point lead to 9, 65-56 with 7:30 left.
But the Green Archers frontline length proved too much for the import-less Growling Tigers as Ben Phillips combined with Balti Baltazar and Kurt Lojera to steer La Salle out of danger matching every UST bucket with one of their own.
And when the time got a little tight going into the final minute, Evan Nelle canned a dribble-pull up jumper from near the free throw line to seal the Tigers' fate at 75-64.
Balti Baltazar was hailed as Player of the Game with 20 points, 7 rebounds and 5 assists that capped his very reliable 66.7% shooting from the field. Lojera contributed 15 points to go with his 3 interceptions, while the surprise "hugot" Emman Galman provided 13 points, 11 of this in the critical first half juncture when La Salle built the big lead.
LA SALLE WILL PLAY UNIVERSITY OF THE PHILIPPINES ON THURSDAY IN A BATTLE FOR SOLO SECOND IN THE STANDINGS.
ANIMO!