DLSU LADY SPIKERS, OTHERSnello
by Neal Tieng
REFUSE TO LOSE: THE ATENEO DOMINANCE CONTINUES.
The DLSU Lady Spikers, trailing by a set, refused to yield to their rivals across town and hammered out a thrilling five-set 19-25, 25-18, 20-25, 25-22, 15-12 victory over Ateneo to chalk up win #10 yesterday afternoon at the MOA Arena.
After dropping the third set, La Salle entered the fourth spewing fiery attacks and doubled up on their net defense. With Mars Alba finally settling down, Thea Gagate, Leiah Malaluan, Jolina Dela Cruz took turns hammering the Blue Eagles defense and took a 16-7 lead going into the second technical timeout.
A disputed net call after the technical timeout momentarily unsettled the Lady Spikers and affected their play. And even though the blues managed to cut down the huge green and white lead going deep into the set, it was La Salle's veteran-smarts that enabled them to weather that strong comeback. A quick kill in the middle by Gagate sealed the set 25-22. Dela Cruz, Malaluan, and Fifi Sharma combined in fighting off the strong rally and starred in this match-extending set.
Dragged into a sudden-death 5th set, the Taft ladies smelled a win in the face of a weary and wobbly Eagles. Engaged in a see-saw battle early in the set, the Lady Spikers turned to their consistent floor defense and turned a narrow 11-10 lead into a 14-12 margin to threaten to close out the choking Eagles. Ateneo coughed up their chance with a series of errors spanning from reception bloopers to attack snafus.
With the match point within their grasp, La Salle turned to the Eagle-tamer, Jynne Soreno, to seal the victory with an off-the-block hit to close out the game 15-12.
The DLSU Lady Spikers virtually secured the twice-to-beat advantage holding on to second position with a 10-3 record with third-running UST (9-4) still set to face the unbeaten NU Lady Bulldogs on Thursday.
Jolina Dela Cruz was hailed as Player of the Game with 14 points, 12 of which from attacks and 2 kill blocks.
La Salle will face the gritty and desperate Adamson Lady Falcons on Thursday to wrap up the two-round eliminations.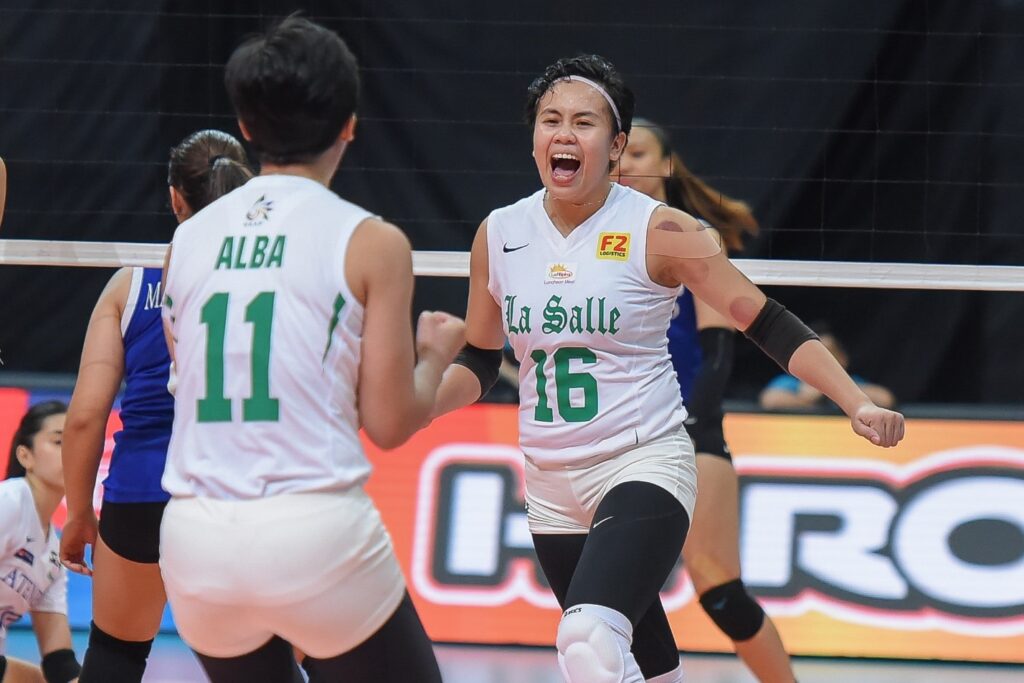 (PHOTOS C/O UAAP MEDIA BUREAU)