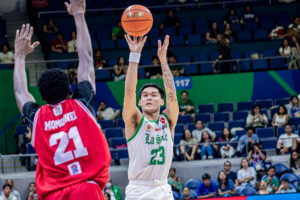 The Green Archers completed a successful week with resounding victories over playoff wannabees Adamson and UE to cement their position as a serious title contender. Wins 7 and 8 were good examples of the Archers' continuing development into a complete team, capable of going all the way.
vs Adamson (November 8, 2023
Last Wednesday, the Green-and-White formalized their entry into the F4 with a tough 69-57 win against the 4th-running Adamson Falcons. After a close first three quarters where the score stood at 54-50, the Green Archers clamped down on the Soaring Falcons, holding them down to just 7 points while scoring 14 to coast to the victory.
Mike Phillips returned from an absence due to injury to contribute 8 points, ably supporting Kevin Quiambao's double-double of 11 points and 11 rebounds, including a surprising two triples. Nelle had a relatively quiet night with 7 points but pulled down 9 rebounds and assisted twice. JC Macalalag played his role as stopper to the hilt, guarding the opponents' best scorers while contributing 8 points and 7 rebounds. Abadam matched Mike Phillips' 2 triples together with Joshua David.
Center Raven Cortez sat this game out to allow him to recover from a slight injury. The 8th win allowed the Green Archers to accomplish what they failed to do in S85 – reach the playoffs.
The Scores:
DLSU (69) – Quiambao 11, M. Phillips 8, David 8, Macalalag 8, Abadam 8, Nelle 7, Nonoy 5, Austria 4, Nwankwo 4, Escandor 2, Gollena 2, Manuel 2, B. Phillips 0.
AdU (57) – Hanapi 16, Montebon 11, Sabandal 10, Calisay 7, Manzano 4, Yerro 3, Ojarikre 2, Colonia 2, Ramos 2, Anabo 0, Magbuhos 0, Cañete 0, Erolon 0, Barasi 0, Barcelona 0.
Quarterscores: 20-18, 43-34, 54-50, 69-57
vs UE (November 12, 2023)
In an exciting game of runs, the Green Archers showed off their ability to explode in stretches to blast the UE Red Warriors, 86-76 to cement their 3rd place in the standings even as they targeted a twice-to-beat advantage heading into the playoffs.
With a 9-3 record, La Salle is out of the reach of Ateneo (6-6) and Adamson (5-7) with two games left in the eliminations. The loss dropped UE out of contention for the playoffs, and set up a frantic race between the blue bird schools for the final slot, with Ateneo having a one-game edge and Adamson needing to win both games against NU and UE to stay alive, while Ateneo needing to win only one game against either UE or La Salle (hope not!).
Kevin Quiambao notched an unprecedented second triple-double to power the Archers to victory, while Mark Nonoy found his groove to lead all scorers with 25 points behind a red-hot 7/11 clip from beyond the arc. The frontline depth of the Green Archers was in full show, with Raven Cortez and Jonnel Policarpio contributing a combined total of 20 points and a _/- of +28 in limited minutes. Evan Nelle put in another sterling performance at the point, ably orchestrating plays while pumping in 9 points and 11 assists with 3 steals and a block.
The Archers dismantled the UE defenses with accurate outside sniping, hitting 14 out of their 33 3-point attempts for a 42%, preventing UE from packing the paint. However, it was not all smooth sailing, as UE unveiled a zone to start the 2nd half that momentarily confused the Green Archers and allowed them to catch up. A quick timeout restored the lead, and while UE sporadically threatened, each thrust was parried with timely makes.
The scores:
DLSU (86) – Nonoy 25, Quiambao 17, Cortez 11, Policarpio 9, Nelle 7, Austria 6, Escandor 6, Abadam 3, Nwankwo 2, David 0, M. Phillips 0, B. Phillips 0, Macalalag 0, Manuel 0.
UE (76) – Remogat 22, Momowei 21, Sawat 18, Lingolingo 6, Maglupay 4, Cruz-Dumont 3, Tulabut 2, Galang 0.
Quarterscores: 15-15, 49-38, 64-63, 86-76.
What the numbers say
Notable in the UE game was the Archers' performance from the foul stripe where they nailed 12/15 for 80%. In previous games, free throws were erratic, with the team averaging only 60% in 11 games (156/260).
The much improved teamwork of the Archers under Coach Topex Robinson was clearly evident in the 31 assists they tallied, which resulted in 30 made field goals and 12 free throws. The Green Archers lead the league in this statistic, averaging almost 23 assists/game after 12 games. The closest competitor is the UE Red Warriors, who average 18. 
The Green Archers efficient offense has them leading the league in points for (83.33), perimeter points (35.33), rebounds (48.67), and turnover points (16.92). They're second in 3-point % (30.85%), free throws made (22.9), steals (9.33), fastbreak points (12.33), 2nd chance points (11.67), and opponents' fouls (22.67).
Clearly the offense is there, the Archers can score (except for one notable quarter in the first round against UP), and the challenge is on the defensive end of the court. 
So far, the Archers have not topped any of the defensive categories, placing 6th in points allowed (71.92), 3rd in total fg% allowed (37.78%), 6th in 3pt fgs allowed % (28.43%), 5th in perimeter points allowed (28.42), 6th in points in the paint allowed (32.17), 3rd in free throws allowed (18.75), 4th in rebounds allowed (44.83), 6th in assists allowed (16.33), 5th in fastbreak points allowed (10.5), 5th in 2nd chance points allowed (11.58), and 4th in both starters points allowed (41) and bench points allowed (30.92). There is much room for improvement on defense in the remaining games, and that should be worrying for opponents.
For the team to go deep into the playoffs, it's the defense and control of the shaded area that will have to improve. But compared to the first round, the Archers have shown a significant improvement in their mental toughness, grace under pressure, maturity, and most importantly, teamwork. This isn't just a bunch of good individual contributors, it's a team of committed players who're focused on competing for the title in S86.
That in a nutshell shows that there is a good basis to be optimistic.
ANIMO!
Photos courtesy of UAAP Media Bureau