by Neal Tieng
ANG SAKIT.
As the clock expired in La Salle in Game Two of the Final Four, starting guard Evan Nelle was face down on the floor, a thousand thoughts running through his head.
There were many factors that led to this sad state.
By blowing double-digit leads, an open but missed keyhole floater and perhaps the errant three at the end, the hard-luck Green Archers let a won game slip through their fingers against the eventual bubble champions UP Maroons.
Two realities quickly kicked in, La Salle had lost their campaign despite a late-season surge and that there is another season starting in just five months. As the Green Archers went through the usual post-loss lows, Coach Derrick Pumaren immediately revisited his original blueprint to determine where it went awry.
With an extremely tight schedule to assemble the ship to win in Season 84, two main problems popped out. Offensive cohesion and bench depth.
The solution for the future? Just as the Manong ordered, the Green Archers immediately did that: retool, and start grinding all over again.
THE DEPARTURES
Losing Balti Baltazar and Kurt Lojera created a big hole in the rotation. Balti's MVP-level double-double performance will be tough to fill and Lojera's role as the go-to scorer off the bench and in the clutch will be sorely missed. On top of the statistics, the duo's takeover abilities and steadiness during endgames will be one aspect Coach Pumaren has to plan for.
Other fringe losses by the greens were Vince Cuajao and Don Lim, who jumped schools in exchange for possible playing time.
But retooling was the key to replace the losses of personnel.
 THE NEW ARCHERS
(Photo courtesy of fastbreak.com.ph)
Kevin Quiambao –
The 6'8 power-forward was part of that outstanding NU Bullpups squad that was assembled to dismantle the Kai Sotto Eaglets. KQ, as he might soon be called, teamed up with Carl Tamayo and made an improbable domination of the UAAP juniors. Even before logging his first minute as a Green Archer, Quiambao already had a stellar resume.
As his stock rose, so did the expectations. And to date, Quiambao has not failed in any of these tests.
The young forward drained the game-clinching two at the end of the PBA D-League Finals Game Two and celebrated with his Steph Curry-esque night night celebration on the floor against the tough big men of Marinero Pilipino. The three-point play that gave the Archers the game and some life into La Salle's title hopes, also highlighted Quiambao's clutch genes. The rookie can deliver when it matters most. He wants the ball in his hands during crunch time.
Just look at these impressive stats, 18 points, 6 rebounds, 4 blocks and 3 assists against a tough St. Claire team made up of UAAP overage standouts, and 15 points, 10 rebounds and 7 assists against Letran. Big numbers for a rookie.
There is more to KQ's game than just stats, it is his calmness and superb basketball IQ. He rebounds well and reads passing lanes precisely and is a beast on defense.
"Magaling si Kevin", Nelle shared his thoughts on his SLAM interview with Mikee Reyes, and further described the young Quiambao as someone who can challenge the dominance of another former NU Bullpup and now UP Marorons, Carl Tamayo.
(photo courtesy of JcMacag twitter)
JCee Macalalag
The Jcee Macalalag highlight reels are impressive. The rookie out of LSGH showed tremendous skills in breaking down perimeter defense and slash fearlessly. Coach Derrick described him as a very good shot creator and someone that can "set things up for his teammates"
So far, as good as advertised. Macalalag showed off his potentials in the Fil-Oil preseason cup and torched UAAP veterans in the process. His stellar game was against eventual tournament runner-up FEU, where he shot 4-of-5 and finished the game with 12 points in a 65-49 beatdown of the Tamaraws.
Coach Manong is seldom wrong when it comes to spotting talents.
Raven Cortez
The much-awaited debut of another homegrown standout is also something to look forward to. Raven Cortez, the former Under-17 Batang Gilas and DLSZ standout, was set to don the green and white in season 84 until he got derailed by an injury.
But the 6'7 forward has worked his way back and if his stint in the Fil-Oil preseason tourney is any indicator, his best basketball days are yet to come.
During his Batang Gilas stint, Cortez logged in 7 points and 4.7 rebounds a game.
Other rookies
Coach Derrick is standing true to his colors of building long term. The off-season haul included guards Penny Estacio, Ice Blanco, Nathan Montecillo, plus forwards AJ Buensalida and Jared Abadam, all with stellar high school resumes.
ARE THE GREEN ARCHERS STACKED?
We have not seen the Archers this stacked in a long time. The point guard rotation would have Evan Nelle, Mark Nonoy, and Schonny Winston should provide sufficient offensive spark while controlling traffic, the bigs holdovers that includes rebounding demon Michael Philips will lead a frontline backed up by his brother Ben, Bright Nwankwo, and rookie Kevin Quiambao.
The Pumaren line-up known for his reliance on wings to stretch the floor will be composed of Joaqui Manuel, the vastly-improved CJ Austria and Francis Escandor.
The Green Archers are easily 10-players deep that can rotate without significant drop-off on both ends of the floor.
REKTIKANO.PH GRADE OF THE GREEN ARCHERS – DARKHORSE
Unlike the Evan Nelle prediction, the Green Archers have still a lot to discover.  The much-improved chemistry was seen in both the Fil-Oil preseason cup and the PBA D-League and had the schedules been more LaSalle-friendly, the green and white might have taken the FilOil crown home as well.
The PBA D-League conquest was a breakthrough. It proved that the current line-up can weather turbulence and extreme challenges and still come out on top. CJ Austria's significant improvement as a three-and-slash guy has proven to be the offensive sparkplug the Green Archers needed when the Winston option get shut down.
Michael Phillips has also shown better footwork and a marked upgrade in his midrange J.  Nwankwo displayed more coordinated low-post moves while showing agility in running the break.  "He can catch the ball now" as Winston and Nelle chuckled in the Slam interview.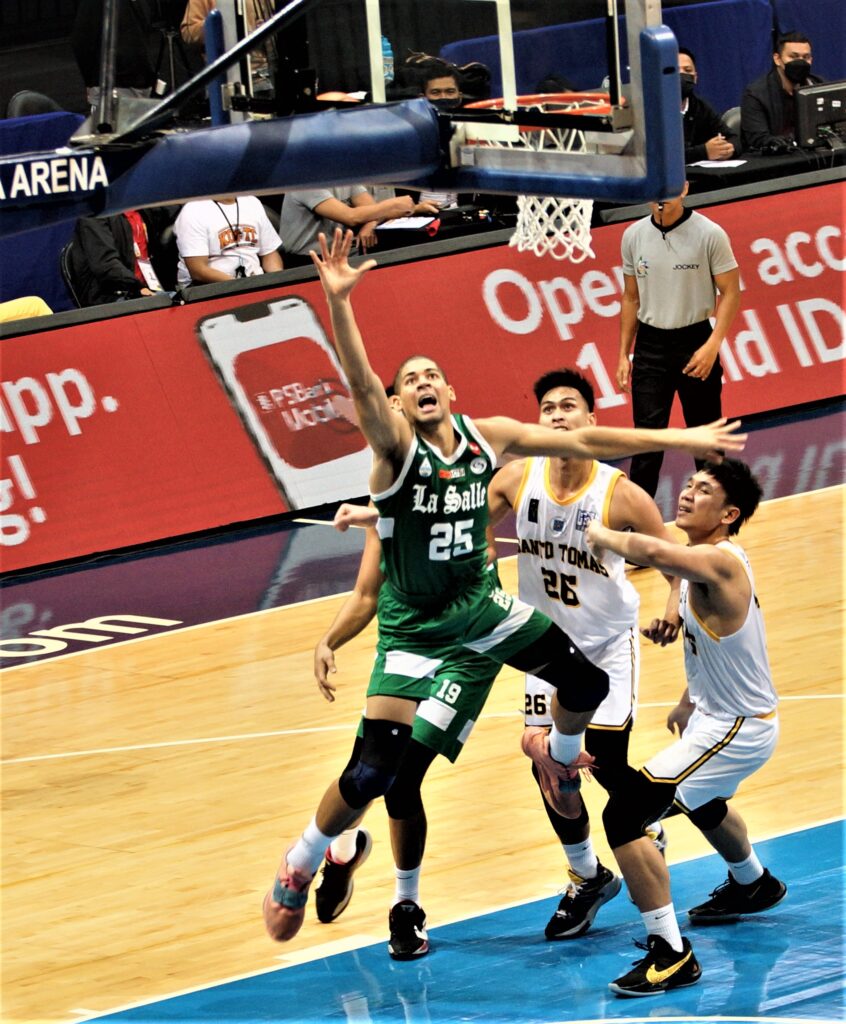 So why only a darkhorse and not title favorites?
The competitive landscape in the UAAP is much different from the preseason tournaments. Pressure will escalate to breaking points, games will be decided in the last minute with bigger stakes.
Defending champion UP Fighting Maroons will still have an intact roster while the reloaded Ateneo Blue Eagles still has Ange Kouame and Chris Koon together with the rest of their overseas rookie haul. NU seemed to be pumped up after winning FilOil and FEU have put their RJ Abarientos nightmare in the past.
So far, we have seen the Green Archers appear to have risen from the ashes of a devastating loss and used it as fuel to compete effectively in the preseason tournaments in just five short months.
Can they win it all this year?
The first chapter will be known when the DLSU Green Archers meet their Final Four tormentors, UP Maroons on Saturday, October 1, 2022 at the Mall of Asia Arena
And hopefully, no more pains.
ANIMO LA SALLE!!!