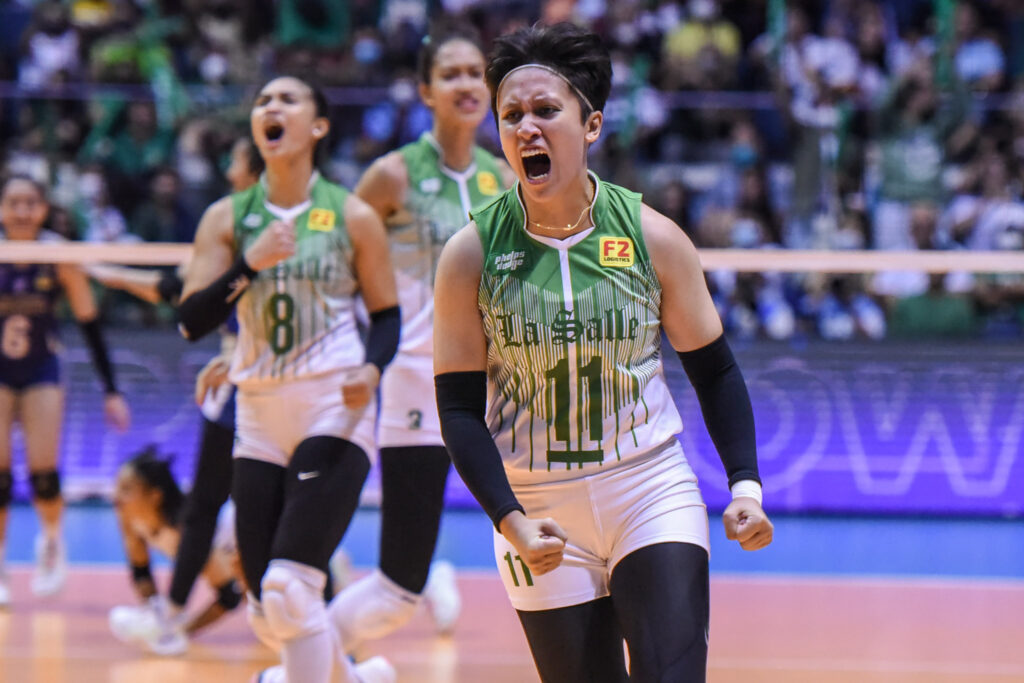 Great escape in Game One!
De La Salle Lady Spikers celebrated a thrilling, come-from-behind victory in game one of the Season 85 UAAP women's volleyball title clash against the National U Lady Bulldogs. The Lady Spikers showcased their resilience and skill, clawing their way back from a deficit to triumph in a grueling five-set encounter with a final score of 18-25, 25-22, 22-25, 25-21, 15-13.
And the key was the fourth set.
That game-changing set commenced with a surge of pride from the La Salle camp, as Thea Gagate and Angel Canino orchestrated an impressive 8-4 start, firmly establishing control.
Canino's exceptional performance boosted the green team forward, as she delivered four consecutive points, while Marionne Alba added to the momentum with a crucial service ace. With this combo, La Salle surged to a commanding 16-10 lead by the second technical timeout.
Then there was Lady Bulldogs bite back, mounting a mini run to cut the 22-17 lead to just three at 22-19.
After a quick time-out by Coach Ramil De Jesus, , Canino delivered a remarkable runner shot that buried the volleyball just shy of the endline, extending La Salle's lead to 23-20. The ensuing play saw Gagate blocked Solomon and Camila Lamina overshot her attack, resulting in a match-defining set victory for the Lady Spikers, equalizing the game at 25-22.
With the race to 15 points underway in the final and deciding set, La Salle exhibited unyielding poise while an NU meltdown was showing on the other side. The defending champions conceded a staggering six error points in the decisive set alone.
Riding on the exceptional performances of Angel Canino and Thea Gagate, who dismantled NU's net defense with power and speed. The Lady Spikers raced to a 12-9 lead off Gagate's scoring spree, one block on Bella Belen and a smash-back off a faulty NU reception.
After NU's Erin Pangilinan yielded another point through a service error, Canino's middle-backrow attack boosted the Lady Spikers to match point.
And when the pressure peaked, the Lady Bulldogs whimpered. An errant attack by NU sealed the deal, completing a Houdini act for the Lady Spikers and securing a vital victory.
Earlier in the match, the game began with the Alyssa Solomon show who was shining for the National U Lady Bulldogs, scoring four early points before her teammates joined in.
With La Salle's early struggles, NU claimed a 5-8 lead at the first technical timeout. The Lady Bulldogs continued their assault, executing drops and off-block points with precision, extending their advantage to 8-16. Their aggressive play paid off, as they closed the first set with at 18-25.
La Salle regrouped and found their rhythm in the next frame. Overcoming a 1-4 deficit, they began scorching NU's defensive line through attacks and service aces. Gagate's powerful presence in the middle opened up the net for Canino and Malaluan to attack on the wings, and the Lady Spikers took the lead at 9-6 during the first technical timeout.
NU's thirst for green blood was far from quenched and launched a comeback and leveled the score, and seized a 16-15 lead by the second technical timeout, courtesy of an overreach error by Gagate.
However, for La Salle it was no turning back and switched the tide in their favor, with Gagate and Canino leading the charge. They reached set point at 24-22, and a powerful slam from Malaluan secured the set with a score of 25-22. The Lady Spikers displayed stellar defense, limiting Solomon to just two points in the second set.
And as the see-saw predicted, La Salle faltered in the third set, plagued by a series of reception errors that allowed NU to surge ahead to a 1-5 lead. Bella Belen exerted her influence, guiding the Lady Bulldogs to a commanding 8-2 advantage by the first technical timeout.
Similar to the first set, NU continued their dominance, capitalizing on La Salle's mistakes. Despite a valiant comeback effort from Gagate and Canino, who narrowed the deficit to 12-18, NU maintained their composure and closed out the set at 22-25.
It was a tough lesson for the Lady Spikers, you cannot allow a team like NU to have an 8-point head start and expect to mount a successful comeback.
Angel Canino had another monster game with 21 points and Gagate was instrumental with 17.
This gripping victory in game one of the title clash sets the stage for an electrifying game two. La Salle's confidence will be soaring as they aim to clinch the championship with another stellar performance. Meanwhile, NU will be eager to bounce back and force a decisive game three, ensuring a thrilling conclusion to the Season 85 UAAP women's volleyball championship.
Game Two is set on May 14, 2023 at the Mall of Asia Arena.
ANIMO LA SALLE!
ANIMO LADY SPIKERS!!!