March 23, 2023 was when it all started, as UAAP Season 85 Best Outside Spiker & Champion, Jolina Dela Cruz, posted back-to-back photos on her Instagram Story of the Taft kids striking a pose as Jolina held handcrafted flowers and a handwritten letter that they made for her.
"Every morning, afternoon, and evening, these kids never stop saying hi to us whenever they see us walking by their street, and now, they gave us handcrafted flowers", Jolina acknowledged in the post. "I appreciate these kids! ♡", she added.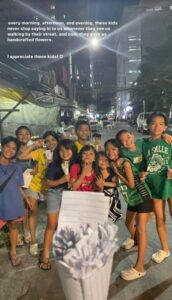 The following photo showed what was written in the heartfelt letter, and it said: "Jolina Dela Cruz, good luck po sa laban niyo po La Salle vs NU. Team La Salle good luck po! We love you po ate Jolina!". It would be safe to infer that the kids possibly made the letter prior to the first DLSU vs NU match (March 22, 2023) but were only able to give it a day after the Round 1 matchup.
"sooo sweet knowing that kids really mean what they say. Sobrang nakakataba ng puso. We hope to continue to inspire these young dreamers", Jolina reacted.
The photos immediately sparked curiosity/interest online, especially in Twitter amongst the 'Lumots', the moniker used by the fans of the Green & White, where certain Twitter accounts shared screenshots of the IG story and started teasing the idea to bring the Taft kids to watch at least one game live. Until Twitter user @volleybestiee, together with other organizers composed of current DLSU students, alumni, and even students/fans from other universities, initiated a fundraiser formerly entitled "#ForTheKids" that eventually evolved into "#LumotsForTheKids". 
The organizers promised to use collected donations to bring the Taft kids to watch one game live. Initially, around ₱14,000 was the target of the fundraiser which included payment for tickets, transportation expense, customized #LumotMerch shirts for the kids, and food & drinks on game day. Thanks to the huge clamor from the Lumots community, the target was reached within only 45 minutes. Eventually, donations kept coming in and the organizers were able to collect around ₱31,000 which was more than sufficient to let them watch a game live. Truly a remarkable feat by the fans.
The exciting part was deciding which game to bring the kids to, and the organizers thought: what better match to witness live than a classic La Salle-Ateneo rivalry match. Thankfully, Patron tickets were secured for the Taft kids, and they were ecstatic to finally see their ates play some volleyball. The organizers mentioned that the kids were eternally grateful, since it was their first time to experience watching a game live and that the kids were teary-eyed almost the entire day, because they were overflowing with joy & gratitude. Even before the match started, thanks to the donations, the organizers were able to buy much needed school/art supplies for the kids which they mentioned that they'll also use to make even more handcrafted gifts for all of the Lady Spikers. You can see the full breakdown of expenses HERE.
"Basically, a lot of hugs & thankful words were shared", one of the organizers shared. Their tears of joy continued as they were able to watch their ates go all out as DLSU dominated Ateneo in three sets: 25-22, 25-19, 25-18, last April 23, 2023. And immediately after the match, none other than Jolina Dela Cruz initiated to take a photo with the kids, and this momentous occasion was immortalized via a photo from Mr. Flavius Dulce.
ONTO THE SEMIS?
Riding on the high of getting the 12th consecutive win against archrivals Ateneo, most of the Lumots and the organizers wanted to bring the Taft kids to watch more games live. So a second round for the fundraiser was started to bring the kids in the Semifinals match, because the kids' loud cheers are much needed especially in such a crucial match against UST. But alas, the organizers weren't able to secure tickets due to high demand. 
All hope was not lost as the organizers immediately shifted focus into fighting for tickets for the best-of-three Finals. With around ₱11,000 left in the fund, the second round of the fundraiser was able to raise the 11K into around ₱36,000 which was sufficient to watch at least two games in the Finals series.
HELLO FINALS & HELLO CHAMPIONSHIP!
Thankfully, that's all the Lady Spikers allowed to transpire—two grueling five-setters to finally bring the crown back to Taft Avenue! And yes, the kids were present in both games. Pretty sure the entire experience is a core memory for the kids and even for the organizers.
After watching three games (DLSUvsADMU, DLSUvsNU Final Game 1, and DLSUvsNU Finals Game 2), the Taft kids hold a 3-0 Win-Loss record as spectators. Kidding aside, Project #LumotsForTheKids was a success. In a series of tweets, @volleybestiee had a message for the organizers & Lumots: "To my fellow organizers for #LumotsForTheKids, WE DID IT! Pero again, kayo talaga yon Lumotlandia! Wouldn't be possible in the first place if it weren't for everyone's collective effort. Happy lang ako nagamit ko platform ko for a good cause. Will definitely continue doing so 💚". Here's hoping that we can see the kids watch more games in the arena next UAAP season. Maybe it'll be an annual thing? We'll have to wait and see.
As Jolina Dela Cruz said in her original post, "We hope to continue to inspire these young dreamers", and after fighting & never giving up in those two five-set matches, that's exactly what they did and will continue to do moving forward.
Once again, congrats, DLSU Lady Spikers! Good luck to our Seniors' future endeavors!
Animo La Salle!